THOSE WHO KNOW THEIR ROOTS WILL GROW STRONGLY IN THE FUTURE
The rotary transfer principle has been successful at Variomatic for more than 90 years – and remains so today. The rotary transfer machining centres from Chemnitz are faithfully producing parts for a large number of customers from different branches of industry. Simple to highly complex parts with several machining stages can be manufactured on our rotary transfer machines.
In addition to our decades of industry experience, we rely on innovative detailed solutions and on the proverbial Saxon ingenuity.
All our machines are unique, because our development process always takes account of customised workpieces, product technologies and special on-site circumstances.
Innovation is tradition at Variomatic
Hermann Hahn was already convinced at the end of the 1920s: the grouping of machine tools in line production is no solution for large and medium-sized series. Back then, the founder of the Stuttgart company 'Hahn & Kolb' was already calling for several work processes on one machine and in a single clamping setting.
Rooted in mechanical engineering, at home in Chemnitz
Contracted by Hermann Hahn, the Leonberg company Bammesberger began production of the first rotary indexing plate machines – various successful series were to follow. To merge development and production, Variomatic Werkzeugmaschinen GmbH then emerged as a subsidiary of 'Hahn & Kolb' in 1975.
Further development of the product range continued constantly and successfully throughout the company's history. The company was relocated to the Saxon centre of mechanical engineering in Chemnitz in the 1990s. Variomatic Werkzeugmaschinen GmbH has been active as an independent company since 2005 following the spirit of the founder. Variomatic moved to its present site in 2008 to optimise processes and expand growth possibilities in its own office and production buildings.
Satisfaction for the future
To date, more than 3,000 Variomatic machines have been delivered on five continents. Customer proximity, maximum reliability and state-of-the-art technologies are crucial success factors here.
Close to the customer
Direct contacts are the basis for successful projects. For this reason, interested parties or customers speak directly with our specialists and decision makers. Modern tools and means of communication support the workflow and provide the motivation for creative work. Catering to special product features and technical standards in compliance with individual customer requests is part of the daily routine for our specialists – as is communication across borders, time zones and cultural circles.
Intelligently refined
The development of the T3i reflects our constant motivation to further optimise and more efficiently design our rotary transfer machines. Your practical feedback has always played an important part in our progress. In order to be equipped for the future, we also back Industry 4.0 in connection with modern working environments. With this in mind, our experts cooperate intensively with university research institutes such as the Chemnitz University of Technology and the Dresden University of Technology as well as the Fraunhofer Institute and other institutions in Germany.
YOUR CAREER AT VARIOMATIC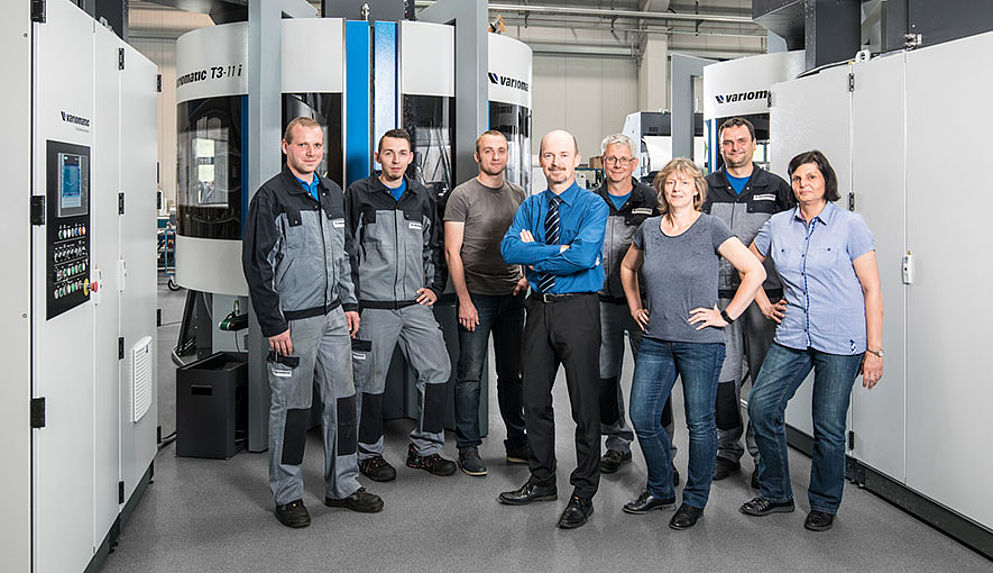 There are a lot of good reasons to work for Variomatic. Benefit from the experience and persistence of a successful medium-sized enterprise. With us, you can improve continuously with an eye on the future while taking on responsibility. We offer you an informal working atmosphere with a big emphasis on mutual loyalty and openness. Together we create what our customers want and produce unique products. We look forward to your ideas for the future!